Click on any graph to enlarge:
Mansion.08.02.2003.1.C04-5
Click to Enlarge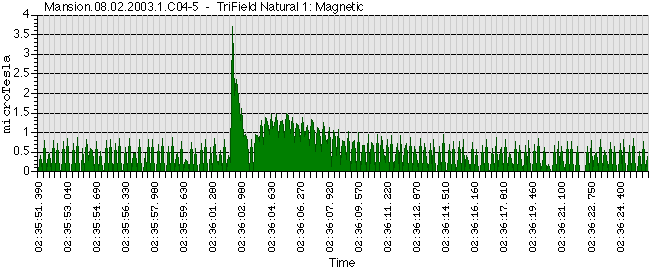 Recorded at the historic Overholser Mansion in Oklahoma City, this was recorded on a TriField Natural during sit down. It shows a 37 milliGauss fluctuation in the local magnetic field, lasting only about a second.
---
---
NewChrch.08.11.2003.2.C09-3
Click to Enlarge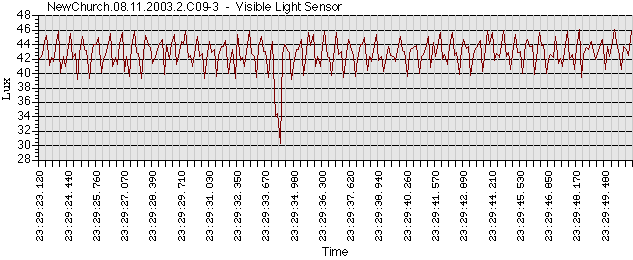 This visible light fluctuation was recorded on an investigation of an abandoned church with an adjoining cemetery. It was recorded inside the church, with standard lighting on. A constant RMS brightness of about 43 lux was normal, but while no one was inside the building, the lighting dropped to 30 lux for less than a second. This was accompanied by two more similar light fluctuations, all within a 3 minute time span.
---
---
NewChrch.08.11.2003.2.C07-1
Click to Enlarge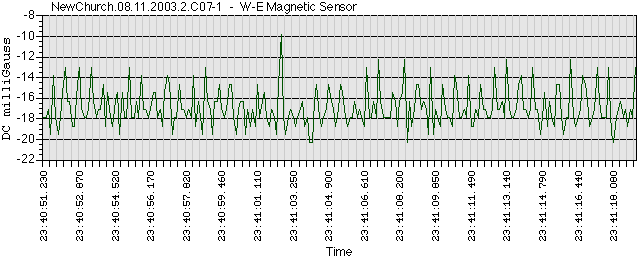 Recorded inside the same abandoned church as the last graph, this shows a sharp 9 milliGauss shift in the west-east local magnetic field.
---
---
---