Click on any graph to enlarge:
Mansion.08.02.2003.2.C04-3
Click to Enlarge
This graph is currently the largest and most interesting change in a magnetic field Arcadia has ever recorded. At the Overholser Mansion, this was recorded on a TriField Natural, while the building was completely empty and locked down. It shows an amazing complex change in the local magnetic fields, lasting for sixteen seconds, and peaking at 105 milliGauss. This is the real deal, for more information and derivatives of this graph, go to the Data Analysis page.
---
---
Mansion.08.02.2003.1.C08-1
Click to Enlarge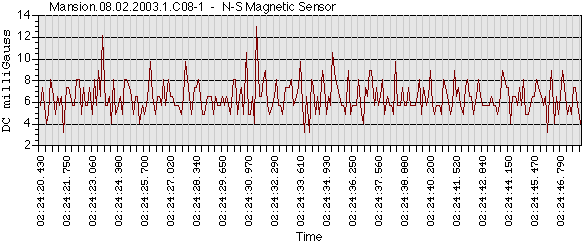 Recorded at the historic Overholser Mansion in Oklahoma City, this graph shows two quick changes in the north-south static magnetic field, the first a quick change of 6.5 milliGauss, and then eight seconds later, a 9 milliGauss spike.
---
---
Hosp.04-05-2003.1.C02-1
Click to Enlarge
Recorded by the Library room at the Hospital Research Site, this graph shows a very interesting quick change in 2.5 degrees fahrenheit. Then, instantly the temperature drops back down 2 degrees, and slowly stabilizes back to room temperature. The floor was totally vacated at the time of the anomaly, and this is currently the largest surface temperature change Arcadia has ever recorded.
---
---
---