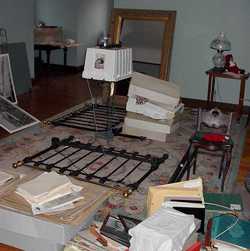 Click to view graphs from this area:
- AC Magnetic Fields Graph
- Static Magnetic Fields Graph
Docent A reports feelings of uneasiness in this room, adjacent to the ballroom, currently being used as storage. Measuring equipment was set up in the center of the room, approximately 5 feet off the ground. Static magnetic fields show instability on both axis, along with small, smooth variances. Frequencies between .01 and .02 hertz are apparent, but these oscillations are short lived, not seeming to last more than a few minutes for each. AC magnetic fields show similar spikes as the Library area had, suggesting that the house may have poor shielding and grounding. These spikes were much larger, the first occurring at 80 second mark, up to 1.45 mG, which then drops back down to about .79 mG. This new baseline holds for about 10 minutes, when the field strength then drops to about .6 mG. Another large spike up to 1.45 mG at the 1,460 second mark starts a baseline of .76 mG. After another 10 minutes, the field strength drops again to .6 mG, which holds until a spike of 1.6 mG occurs (2,840 second mark), and a .8 mG baseline is established. Just before the graph ended, the baseline dropped to just above .7 mG. The process seemed to follow a pattern, each spike occurring exactly 23 minutes apart, the cause of which is unknown (as mentioned above, possibly an air conditioner or other appliance). Electric fields were much higher than normal in this area, in some places over 200 V/m, which can cause odd feelings such as tingling, goosebumps, etc.. EM variance in this area showed to be a little higher than typical control runs.



Field Means, Standard Deviations (SD) & Control Log SD for Comparison
Field
Mean Strength
SD
Typical Control SD
Static Magnetic Fields: N-S:
-146.459 mG
0.566 mG
< 0.5 mG
Static Magnetic Fields: E-W:
-212.009 mG
0.665 mG
< 0.5 mG
AC Magnetic Fields:
0.706 mG
0.109 mG
< 0.09 mG
Electric Fields:
< 30 V/m typically, in some places over 200 V/m